Little May Gold is a massive quartz vein system near the Bradshaw Mountains of Arizona.
Little May Gold has history, proximity, simplicity, value and volume.
Never yet commercially worked. A massive turn-key deposit at surface in several locations…as you can see here >>>
Welcome to the Little May Gold project. This ore body has only been hand mined and tested. It has not been touched since the late 1950's when its former owner passed away before he could put it into production.
After reading his communications, drawings, maps, studies, assays and geologist reports; I filed a lease with AZ state and we have begun geophysical mapping, sampling and recently received a SUP road access permit from the USFS.
Currently, we are geologically mapping by hand under a Arizona State Land (ASLD) General Field Operations Plan (GFOP) while awaiting archaeological survey and elevated bulk exploration permitting through the ASLD.
We have located 3 primary targets out of at least a dozen within the 107 current acres.
1 to 5 pound samples have shown 7, 12 and 21 gpt free milling gold from 2-4 foot thick veins at the surface.
There is no reason to doubt these veins continue downward to a confluence with horizontally intersecting vein structures to at least 1000 feet.
Geologically, these intersections have shown to be quite enriched. Previous owner's historical bulk samples show .5 to 1 opt. (See Historical report below or in our news section)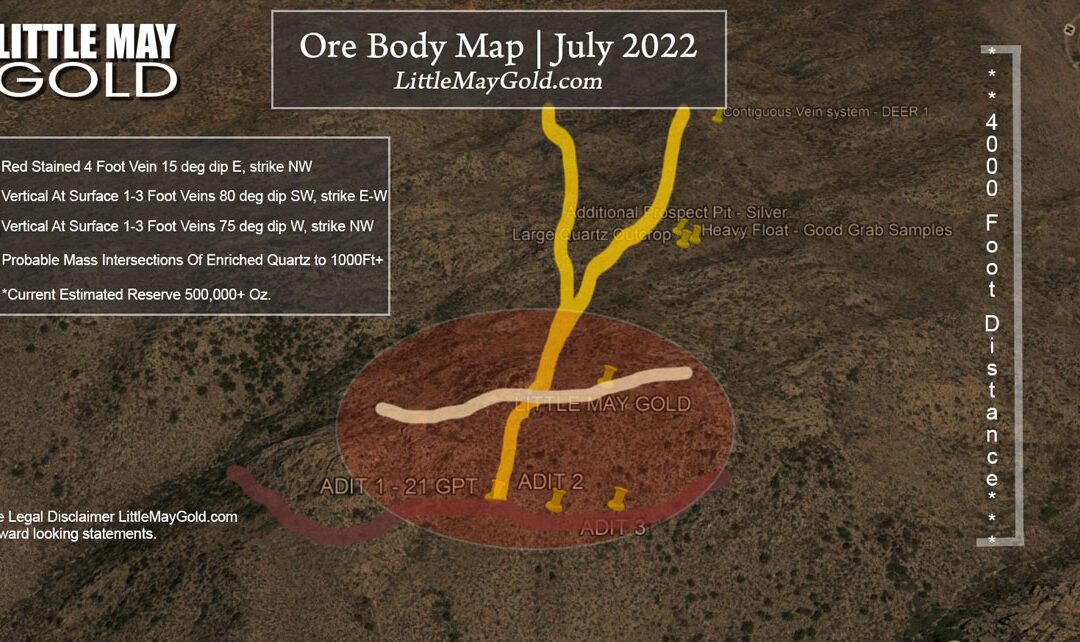 Little May Gold Mine has undergone over 2 years of work and research by Eric Schultz and his team, who have discovered a historical hand worked mine that is now ready for further development. Physical verification through gravity and assay show a large and valuable...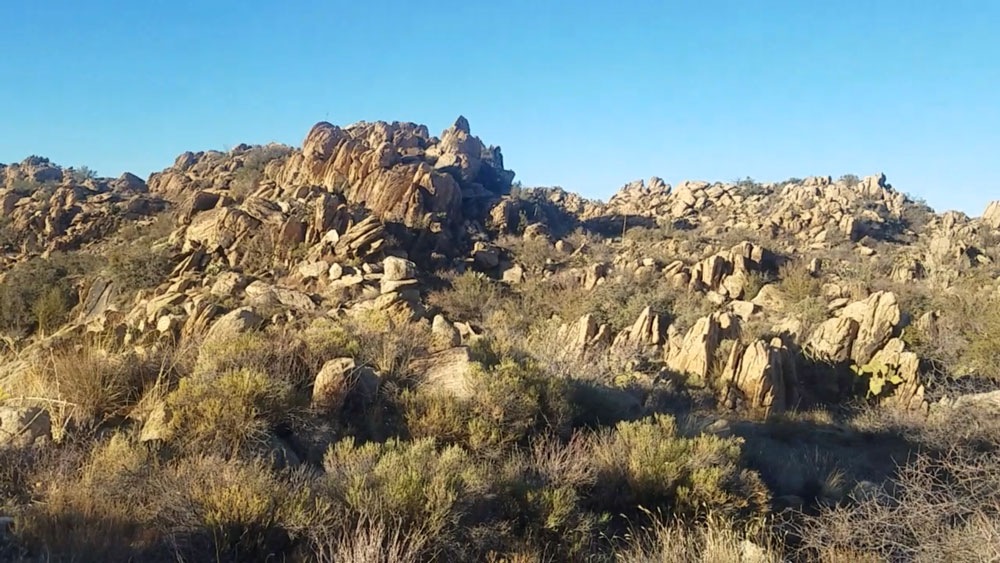 LITTLE MAY GOLD - Development 2022/2023 Project What sets Little May Gold apart from most projects? The ore is readily available at surface in large quantities and is easily accessible. This saves millions in development and provides very near term profitability. ...
ASSET
A Spring 2023 bulk exploration program will help plan our larger operation for Fall 2023. Current gravity mill testing shows visible gold and sulfides.  Massive veins are at the surface in several locations across the property. Geologist notes, test samples, historical workings and personal surveying suggests the reserve is to be at least 142,000 tons of enriched ore at an average of 10 GPT.
HISTORY
It appears that the Little May Gold project was originally worked in the late 1800's. Then, Harry W. Fisher rediscovered and staked this ore body in 1919 when he began his testing and sampling program until his passing in 1942. I see Harry as a man just like myself. A man with a passionate drive for realizing and developing a fantastic gold mine project.
PROXIMITY
This property is located directly between the well-known mines of Octave and Crown King; reported to have produced hundreds of thousands of ounces of gold. These mines were in production at depths of more than 2,000 feet below the surface. Here at Little May, due to the declivity and erosion of the canyon, these veins are prospected to a depth of 600 to 800 feet. The photograph below of a 4 foot red stained vein is at this location.
Legal Disclaimer For All Time:
LEGAL DISCLAIMER: Statements about the Project/Company's future expectations and all other statements in this Fact Sheet other than historical facts are "forward looking statements". Such forward-looking statements are based on numerous assumptions, and involve known and unknown risks, uncertainties and other factors, including risks inherent in mineral exploration and development, which may cause the actual results, performance, or achievements of the Company to be materially different from any projected future results, performance, or achievements expressed or implied by such forward-looking statements.